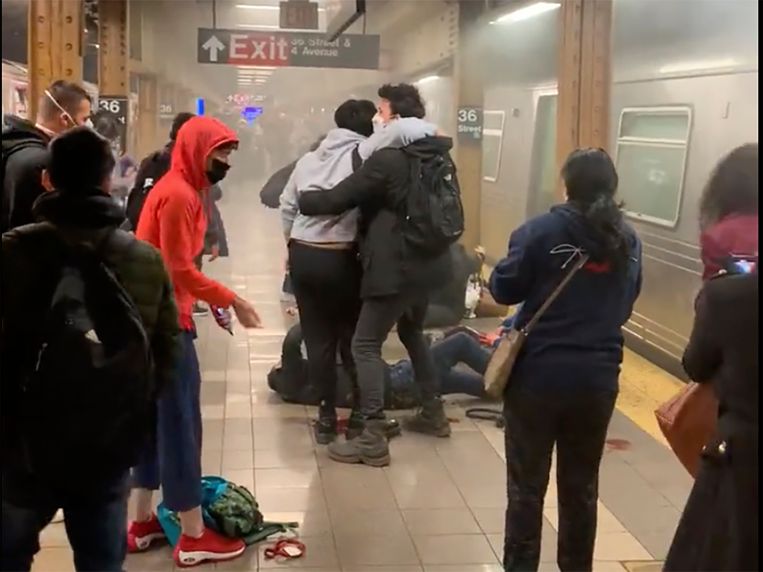 Frank R. James was linked to the incident just hours after Tuesday night's shooting. At the crime scene, police found the key to a van that was found near the subway station moments later. Police officially identified him as a suspect on Wednesday. After an extensive search, he was arrested and detained.
The attacker, dressed in green protective clothing and a gas mask on his head, reportedly opened fire on people through the closed doors of a subway train from Brooklyn to Manhattan during the morning rush hour in New York on Tuesday. He would fire a total of 33 shots and throw two smoke bombs into the subway before he escaped.
Since the gates closed after the shelling and the subway continued to run, people could leave the subway only at the next station. There, several people fell injured and bloodied to the ground. 23 people were injured, ten of whom received gunshot wounds. Others were injured, among other things, by being crushed or falling on the run. People also had trouble breathing, probably due to smoke bombs.
Hate speech

Finally, police were able to find James after reporting someone who saw him at a fast food restaurant. Moments later he was arrested nearby without incident. Police offered a reward of $ 50,000 for advice and clues that led to the arrest of the suspect.
The motive of the suspect is still unclear. According to New York Times The 62-year-old suspect is said to have been harsh and hateful on social media in recent years, including New York City Mayor Eric Adams 'policies. He recently said he was particularly critical of homelessness and security policies in and around the New York subway.
Authorities called James' statement "worrying." In online videos, which sometimes lasted up to 50 minutes, he presented elaborate diatribes on topics such as race, violence and his personal life. In addition, the authorities confirm that the suspect has a criminal past. He is said to have been arrested nine times in New York and three times in New Jersey.
The suspect is charged with, among other things, a 'terrorist act in public transport', state prosecutor Breon Peace said. If convicted, he could face life in prison.