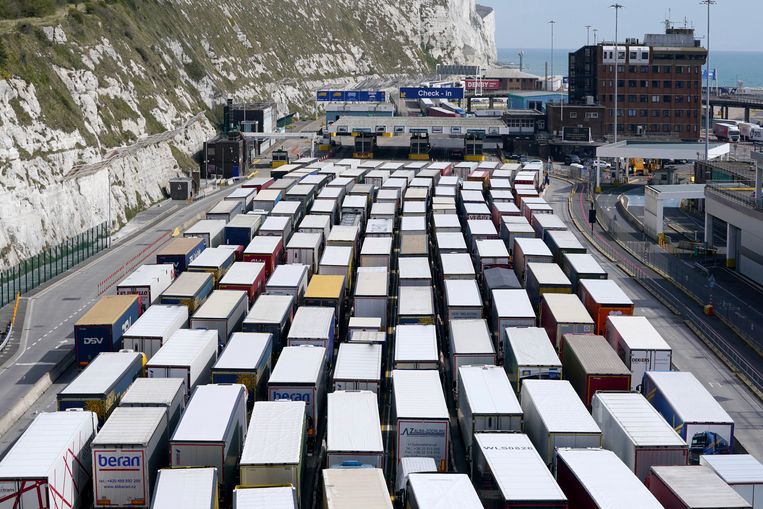 For almost a week, the M20, a road car that has to pass through a tunnel under the English Channel or the port of Dover, is facing long traffic jams. Crowds, as expected, decreased somewhat over the weekend, but as of Monday, the trend has been reversed. Drivers would be stuck in traffic for an average of 30 hours. As Easter approaches, the forecast is that freight and holiday traffic will increase further.
Local authorities are now reporting that 'Operation Brock', an emergency plan for serious traffic jams on the M20, will remain in force until Easter weekend. 37 kilometers of the M20 towards Dover have been completely cleared for trucks traveling to the EU. The other half of the motorway will be divided for local traffic and non-freight traffic wishing to reach the European mainland. In this way, other road users should create as few kilometers of truck traffic as possible.
Congestion is caused by a pile of problems. For two weeks now, all ferry services of P&O Ferries, which are fighting in a legal conflict with the British government, have been canceled. In addition, the IT system used by Customs since Brexit to check paper for failure is important. Checks would therefore take 15 to 20 minutes per driver. The introduction of an alternative system has not yet yielded the desired result.
Patience is running out

Traffic organizations on both sides of the Channel are therefore starting to grumble. Truckers wait for tens of hours without any convenience. According to the Dutch transport organization TLN, they also run into problems with driving and rest times, and sometimes spend hours looking for a parking space.
According to TLN, carriers bypassing other ferry connections will soon lose an additional 2,000 euros per truck. That is why the organization, along with several supporters, wrote to Secretary of State Aukje de Vries for fees and duties. She is being asked to loosen checks with a British counterpart, to take urgent measures to promote traffic flow and to be gentle when driving time is exceeded.
Carriers are also running out of patience in the UK. "This shouldn't happen every time an operational malfunction occurs," said Rod McKenzie of the Road Transport Association. "It is costly and detrimental to the British economy and reputation. It is time to take decisive action and solve this long-term problem. '
Perishable goods carriers are particularly concerned. They fear that European importers will neglect the UK in the future, as doing business with the British is too much of a hassle. There will also be no more drivers available to travel to the UK as they know they will face major delays. TLN reports that some Dutch carriers have already stopped traveling to the other side of the Channel.